Struse Plumbing – PPC Case Study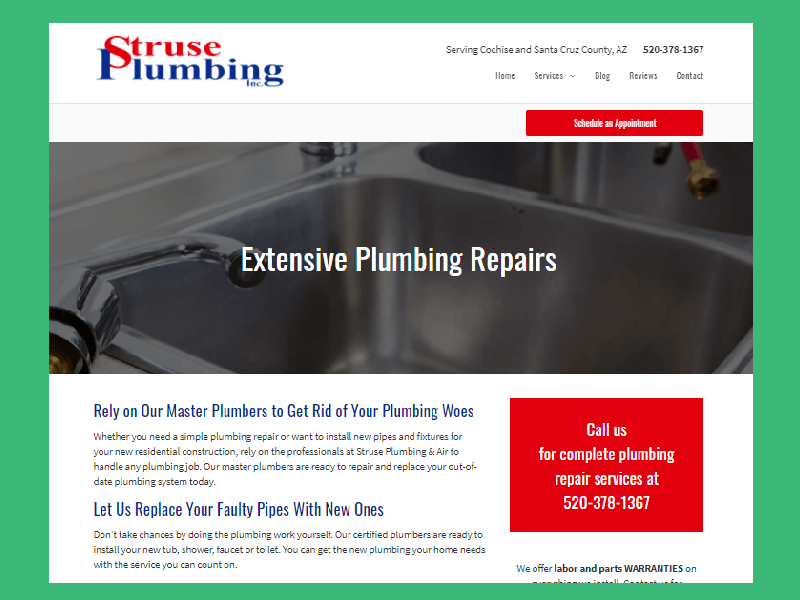 Struse Plumbing is a family-owned business with 25 years of experience in the plumbing industry. They are also known for providing fast and reliable service in all of Southern Arizona.
Our Challenge
Struse Plumbing came to the Eyeshot Internet Marketing Agency to run their PPC campaign. They were looking to get better performance, and increase leads from Google Ads that they were getting from their previous agency.
775 Conversions

15.54% Conversion Rate

$1,478.81 Cost
We ran specific Google Ads for Struse Plumbing to the different audiences they were looking to target.
Results
3 months down Eyeshot managed to improve
Conclusion
Through our PPC ad services, we were able to help Struse Plumbing generate 775 new conversions and increase the leads from Google Ads.
Eyeshot is a professional marketing agency. They have an experienced PPC specialist team and completed the task requested for our website. We are extremely happy with the service that they have provided to us so far. Highly recommended to anyone considering hiring this digital marketing agency.
See How Well Your Website is Optimized
Please fill-up the form and our Head of PPC specialist will do personally analyze your website and show you what's your lacking that's why you aren't getting the proper results as you want.
Our team of professional PPC experts is the perfect partner for a successful business partnership.